Nadia Petrova of Russia
Four top 20 players will take part in the PTT Pattaya Open tennis tournament in February.The WTA tournament has been upgraded to be part of the international series with a minimum purse of US$220,000 (approx 7.7 million baht).
As a result, the tournament has attracted a number of stars including Vera Zvonareva of Russia (No 7), Nadia Petrova of Russia (11), Caroline Wozniacki of Denmark (12) and Slovakia's Dominika Cibulkova (19).


Russian world number 11 Nadia Petrova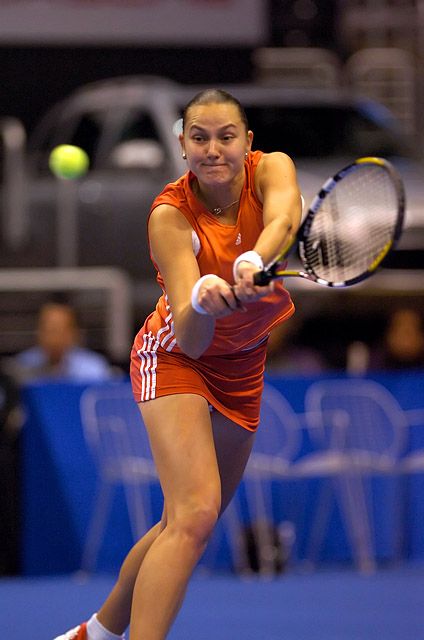 Tennis - Nadia Petrova
Nadia Petrova off-court
Nadia Petrova of Russian Tennis Star Bio
Nationality: RUS (Russian Federation)
Birthdate: June 08, 1982
Birthplace: Moscow, Russia
Residence: Monte Carlo, Monaco
Turned Pro: Pro (September 6, 1999)
Plays: Right-handed (two-handed backhand)
2008 Ranking: 11
* Coached by Tatiana Matoukhnuke and Lars Wahlgren; physio is Damian Prasad
* Likes hardcourts because she is an aggressive player (easier to finish the point early)
* Spent part of her youth training in Egypt, where parents were athletics coaches
* Father, Victor Petrov, was a top hammer thrower; mother, Nadejda Ilina, won the bronze medal at the Montréal Olympics in the 400m relay; parents are still athletics coaches
* Likes to visit Croatia because it is beautiful and peaceful
* Enjoys fishing, and reading (favorite book is Gone With the Wind)
* Would like to try every sport there is.